Annual Return - Federal Corporations
A corporation or business entity is required to file its annual return to the appropriate government authority every year.
This is NOT A TAX RETURN. This return to Corporations Canada is due within 60 days of your incorporation day & month. Once a year, Corporations Canada requires you to file an Annual return with them.
Federal business and not-for-profit corporations can file their annual return online.
An annual return costs: $12 (online payment)
Step 2 - Choose Sign-in Partner
Sign in Online Portal Sign in using a GCKey (if you have one) or choose a Sign-in partner such as your bank (same login as your online banking).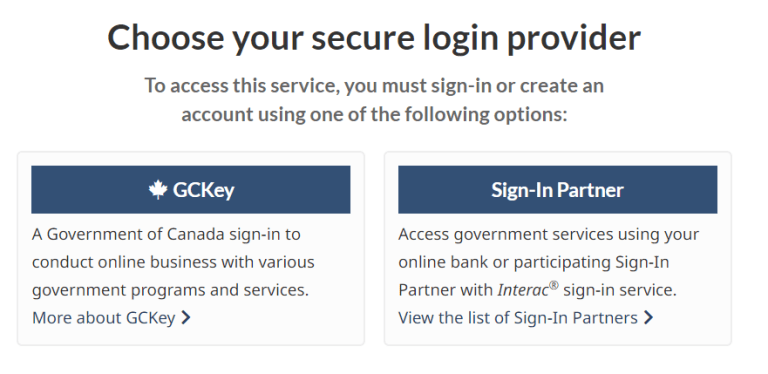 Step 3 - Select the Corporation
Select the corporation you want to file for. If you can not see the corporation, then click on the Search button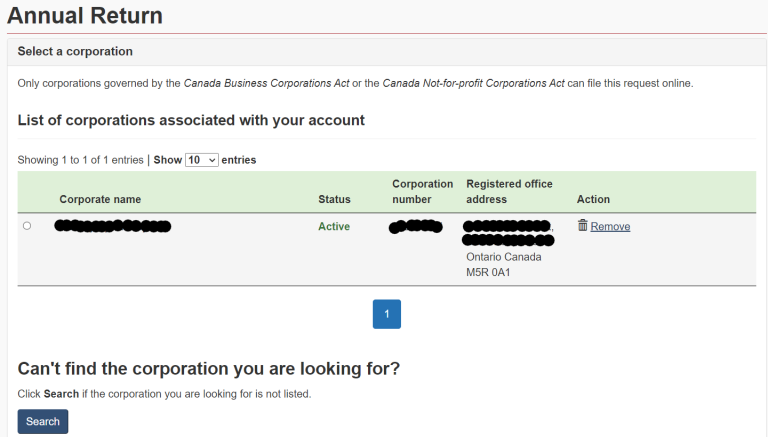 Confirm that the details of the corporation you picked are correct (i.e. it is the one you want to file for)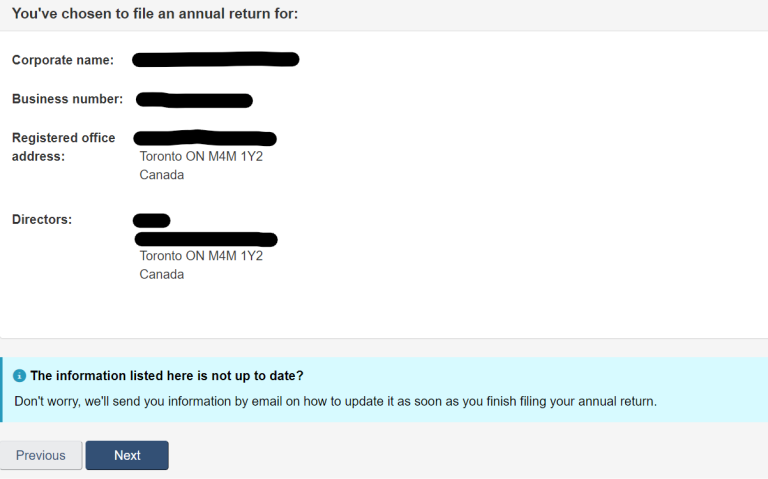 Step 5 - Add Contact Information
Insert your contact information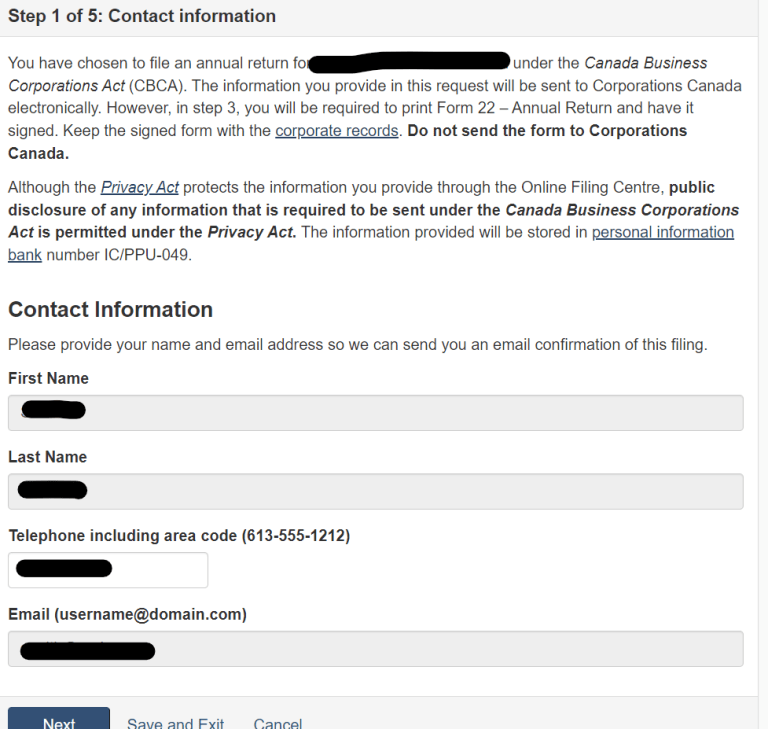 Step 6 - Add Annual Return Information
Fill in the current year and the date of your annual meeting. The corporation's directors are required to have at least one meeting every year. Or prepare a resolution to waive the meeting. You probably have various management meetings during the year, so you can enter the date of your last meeting. 
Most corporations are non-distributing corporations. If your corporation is quoted on the TSX or similar stock exchange, then choose a distributing corporation.
Step 7 - Print & Sign a Copy of Documents
Print and sign a copy of the documents for your records.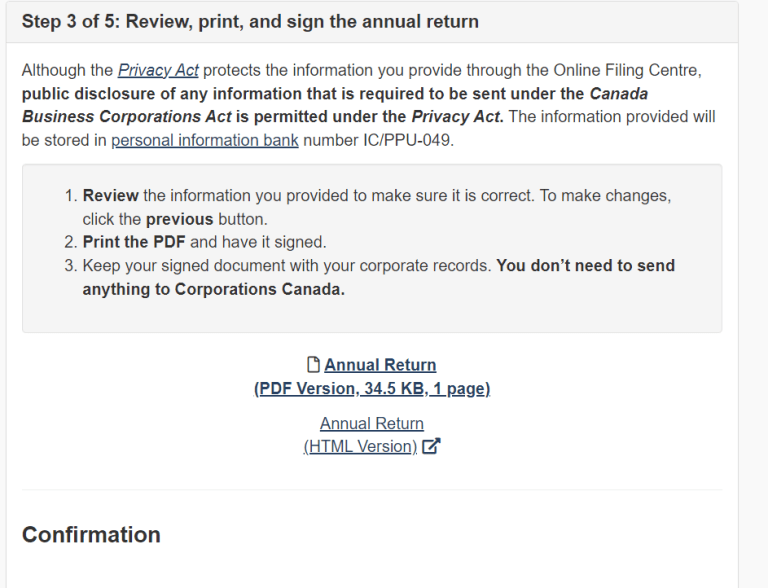 Step 8 - Annual Reminders
Enter your email to receive annual reminder emails to file the return. And then proceed to payment.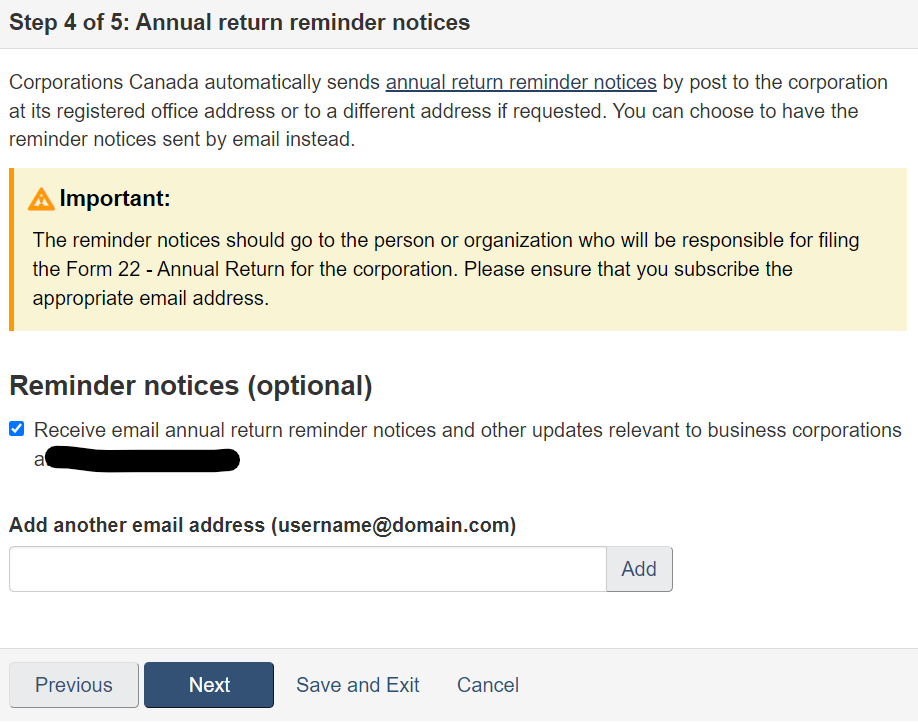 Payment can be made with a credit card. Afterwards, you will see a confirmation like below.